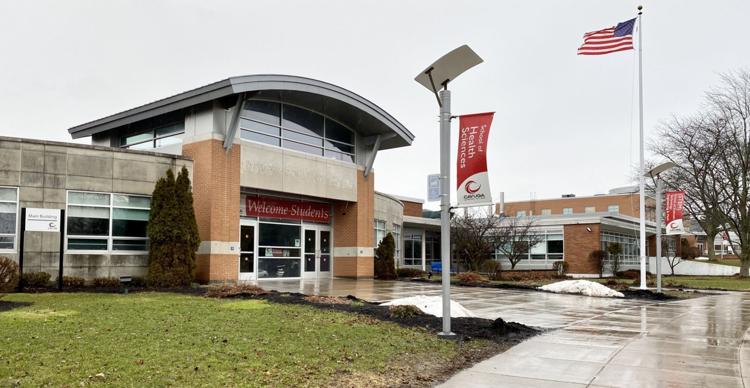 Following the State University of New York's launch of a system for tracking COVID-19 testing on its campuses, Cayuga Community College is working to secure approval on its own testing protocols.
CCC Pesident Dr. Brian Durant said Wednesday the college has not done testing yet but hopes to start soon. Until this point, any student or staff member who thought they may have symptoms of the respiratory illness was encouraged "to follow the guidance of the local health department and their medical providers" with testing done through providers as needed.
But the college is working on a testing plan of its in the hopes of sending it to SUNY for approval Thursday. If approved, a representative sample of up to 50% of the campus population will be tested weekly for COVID-19 surveillance testing. All of the procedures and expectations going forward will be communicated to students, faculty, staff and the public.
"If there's 1,000 people, we would look to have potentially 500 tests each week moving through the population," Durant said.
SUNY recently announced a COVID-19 tracker system showing the number of confirmed cases reported at all of its campuses, including CCC. As of 5 p.m. Wednesday, the tracker said there are 1,120 estimated total positive cases in the SUNY system since Aug. 31, with an estimated 36,664 total tests to date. The total positive cases from campus testing to date is 477. Staff and students could have been tested elsewhere besides a SUNY campus, through a doctor or health department. SUNY's system currently doesn't have any testing listed for CCC.
Durant said "we were already working in advance of this," but since SUNY's announcement last weekend, the college has been working to finalize its plan. The testing, if approved, will be added to CCC's existing health and safety protocols, which include face coverings, social distancing and all campus visitors or employees having their temperatures taken with a no-contact thermometer and getting asked screening questions. The college previously announced that students who follow CCC's health guidelines will be able to go to in-person support services on the Auburn and Fulton campuses amid the outbreak, but the majority of classes are being held exclusively online for the fall semester.
Durant said the college is confident in its screening procedures and communication that "in the event someone requires COVID testing or has a COVID test or is quarantining, that we will have the information, we'll report it appropriately to the SUNY dashboard and we certainly will be working with local health officials and others to monitor and manage that." 
He also said he is grateful for SUNY's leadership and the guidance and support from local health officials.
Even though Wells College isn't a SUNY institution, the Aurora-based private college has its own testing protocols and health and safety regulations. Classes began at Wells, the only Cayuga County college with on-campus residential housing, Aug. 31. Wells Director of Communications and Marketing Christopher Pollock said Wednesday that as of Sept. 4, the college has done 337 COVID-19 tests of students, with no active cases.
By the end of next week, Pollock continued, Wells aims to begin an ongoing surveillance testing program where every member of the campus community, whether students or staff, will be tested. Everyone will be broken up into four groups, with each group tested once every four weeks.
Wells students hailing from a state on New York's list of travel restricted states or from outside the United States had to quarantine for 14 days, and those students could return to campus as soon as Sept. 17.
Pollock said the new semester has been going well so far, adding that he hasn't heard of any major issues
"This time of year is always busy even without a pandemic, in terms of starting for the fall semester," he said.
Crdit: Source link